1p-7p Sunday-Thursday, 1p-8p Friday & Saturday
725 Water St., Port Townsend
(on the corner of Adams St. and Water St. in the heart of downtown Port Townsend)
360.344.8271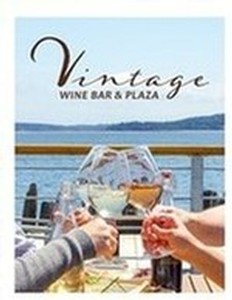 Restored - Revitalized - Reimagined
Vintage Wine Bar and Plaza: opening Monday, March 9th, 2020
Casual and connected, this completely restored 1885 building is a wine immersion experience for locals and visitors alike. Vintage Wine Bar and Plaza is complete with on-the-water views and brings with it a regional food pairing experience. Our new location is ready to host you with Port Townsend Vineyards wine, seasonal fare, and a large waterfront patio, complete with ocean views and fire pits. Open 7 days a week.
Featuring a tasting counter and a commercial kitchen, it is designed for wine tastings, food pairings, live music, and entertainment.
We look forward to seeing you soon!
We offer an array of seasonal northwest small and large plates that pair perfectly with Port Townsend Vineyards wines. Wines are available on tap and by the bottle for guests to enjoy onsite or take home. The venue is family friendly and all ages; service animals are welcome, pets are not permitted.
We do not take reservations at this time, but will do our best to accommodate all guests and groups.
Sample menu (menu changes weekly):
Today's Menu
Cheese Plate
Chef selected cheeses and accompaniments, Pane d'Amore crostini
Cauliflower and Roasted Garlic Hummus
House made Nash's flour and wine yeast pita, Holmquist hazelnuts, herb and paprika oil

Rabbit Terrine
Spring Rain Rabbit, pork belly, pistachios, pink peppercorns, olives, tart cherry coulis, greens

Sunchoke Chips
truffle salt, herb and creme fraiche dipping sauce

Sardine Toast
Piquillo peppers, spanish style salsa verde, grilled pane d'Amore ficelle, manchego, capers

Smoked Salmon Mac and Cheese
Chef selected cheeses, house made parmesan bread crumbs

Blue Cheese Sliders
Painted Hills ground chuck, Rogue Creamery smokey blue, caramelized onion, smoked tomato aioli, sunchoke chips
Wine & Food Pairings
6 ounces of one of our 'Evergreen Wines' served with a specially designed food pairing
- 2016 Chardonnay paired with Pan Seared Scallops with saffron parsnip puree,romesco, pine nut gremolata, crispy brussels sprouts 22
- 2016 Pinot Noir paired with WIld Mushroom Flatbread with chef selected wild mushrooms,
caramelized onion, manchego and cómte, greens
- 2017 Cabernet Sauvignon paired with Elk Flat Iron with sunchokes, chimichurri, kale raab