News
October Newsletter
We're officially in the heart of crush, the first step of turning grapes into wine! We're bringing in deliveries of grapes daily, and the lab and tank hall are bustling around the clock. With so much to see, we're opening up our tank hall doors once a week to let you tour the space and see crush in action.
Open Cellar Wednesdays
Every Wednesday, 4p-6p drop in, October 3rd-November 14th.
We'll be rolling up our winery garage doors to give you a chance to come into see and taste what we're working on! Our winemaking team will be there to answer your fermenting questions and demonstrate some techniques of the trade. Stop by anytime on Wednesdays between 4p and 6p. Plus, the winery tasting room is open until 7p, so it's the perfect place to stop in for a glass afterwards.
Science and Sips Series
Port Townsend Vineyards, along with Washington Science Teachers Association (WSTA) and in cooperation with Jefferson Healthcare, presents Science and Sips: To Your Health, a speakers series, at Port Townsend Vineyards on the first four Tuesdays of October.
Ben Thomas, Winemaker for Port Townsend Vineyards, will lead off on October 2, speaking on the Science and Art of Wine Making.
All events will be held at Port Townsend Vineyards, 2640 W Sims Way, from 4:30 pm - 6:30 pm. Admission is free. No host wine bar will be open, and cheese plates available for purchase. For more information, contact Lois Sherwood at lolo.sherwood@gmail.com.
Pumpkin Carving
It's officially Fall, and Halloween is just around the corner!
Join us for Pumpkin Carving & Wine:
Saturday, October 20th, 3p-6p
in the Discovery Room at the Winery
2640 W Sims Wy
More info on our website
~KC Vessey, Operations Manager
From the Vineyard...
We start to pick our vineyard this week and we're very excited. Because we're on the edge of the region for ideal growing conditions for wine grapes, we wait as long as possible to pick. Those last couple of weeks make all the difference for our grapes. The flavors deepen and grape clusters that featured grapes of different hues, have turned uniform in color and ripeness.
We've been pulling in samples to the lab to test the juice for acid (via pH and titratable acidity), sugar (using degrees of brix), and taste with enough juice left over to start our own native yeast fermentations.
But now, we head off to pick our very own fruit from vines that we've pruned, weeded, shoot-thinned, raised trellis wires on, suckered, leaf-pulled and bird-netted. This is the last – and most exciting – step in a year-long journey. I'm excited to taste the results of all our hard work.
From the Winery...
The winery is exploding with activity and grapes. We've enlisted the help of our tasting room crew on the crushing line, sorting out stray leaves and such from the grapes that have come in from our partner vineyards. This dilligent and important work is usually followed by a lunch and a glass of a previous year's version of the same grapes that we're crushing.
Come visit us each Wednesday during harvest when we open up the big roll up door and let curious folks in to see our process and perhaps taste an effervescent sip of what we have fermenting.
~Ben Thomas, Winemaker
From the Tasting Room...
As we welcome the changing of seasons, the tasting rooms at Port Townsend Vineyards will be welcoming new wines for all to enjoy! Starting October 1st we are happy to announce the debut of our 2016 Chardonnay and 2016 Sedici Italian Blend on tap and in the bottle.
Our 2016 Chardonnay was sourced from the Ancient Lakes AVA in Central Washington where the steep slopes of the Gorge provide ideal growing conditions, with excellent exposure as well as cool nights. If like Goldilocks you are looking for a wine that's "just right", the 2016 Chardonnay is for you.
Many of you have enjoyed our 2016 Sedici Italian Blend on tap, so we are thrilled to now have this wonderful easy-drinking red wine in bottles. With brambly blackberry and dark sour cherry notes, the 2016 Sedici Italian blend features a blend of Sangiovese, Barbera, and Dolcetto grapes that have a tannic grip that will lend itself well to a range of mediterranean-style foods.
If you are looking to hold on to those last rays of summer sun, we still have a few bottles of Discovery Rosé available for Wine Club members to purchase. We have a limited supply bottled, so make sure you stop in soon. If you're not a Wine Club member, it is easy to join. Our Tasting Room staff at either location would be happy to walk you through the process and tell you about the other wines available and coming soon.
~Kritin Myers, Tasting Room and Wine Club Coordinator
September Newsletter
Harvest is officially upon us! It's the time of the year we all look forward to here at the winery, and we're doing plenty to celebrate it's arrival.
2nd Annual Grape Stomp Competition and Harvest Celebration
This year we're headed to the lawn for an evening of fun. There will be grape stomping heats, food vendors, live music, kids' games, wines by the glass and bottle, and more. Admission is free. Stomp starts at 5pm, but come early to grab a seat and toast to harvest season.
Jefferson County Farm Tour
We're on the Jefferson County Farm Tour, Saturday and Sunday, September 15th and 16th. Join us in the Vineyard on Portuguese Hillfor tours of the vineyard, a 'petting zoo' with our farm animals, and more
Live Music in September
Though the seasons may be shifting, we're savoring the last bits of summer with live music every Friday in September at the winery from 4p-7p.
Friday, September 7th: Phil Eherenman
Friday, September 14th: Just Duet
Friday, September 21st: Jack Dwyer
Friday, September 28th: Forest Beutel
Wine Club Release Party
Saturday, September 22nd, 12p-5p at the winery
Members, stop by the winery on Saturday, September 22nd to pick up your Fall Allocation. Experience your first taste of some of our Fall Releases and our exclusive 2017 Portuguese Hill Estate Field Blend, made with our own grapes from the vineyard! We'll have small bites and live music, it's a great chance to meet the team and mingle with other members. Club members who attend will receive a special gift, too! See you there!
The London Plane x Port Townsend Vineyards
Winemaker Dinner and Seattle Area Allocation Pick-Up
Are you a 'main land' (Seattle, Eastside) Wine Club member who's excited about your upcoming Fall Allocation, but can't make it out to Port Townsend for the release party? Well, join us for our first Seattle Area Wine Club Pick-Up on Monday, September 24th at 6pm, at the London Plane in Pioneer Square, Seattle. The London Plane is hosting a Winemaker's Dinner, pairing their excuisitve cuisine with Port Townsend Vineyards' wine. Come pick up your wine and stay to enjoy an evening of delicious food, fine wine, and great company. Tickets available by phone at the London Plane. Mention you're a wine club member for a 10% discount!

Vineyard Update from Ben Thomas, Winemaker
I can't tell you all how exciting it is to see the vines hanging heavy with ripening fruit. The grapes, which not that many weeks ago looked like little green BBs or small hard peas, have all changed color (we call this veraison, to borrow a French word as we tend to do in this industry) and grown plump. Of course this little miracle hasn't gone unnoticed by the sharp-eyed birds in the neighborhood. Most of the grapes are still a little tart for their connoisseur palates, but at some point the sugars will have outpaced the acid in the grapes and the feast will drive the birds wild with desire. They'll swoop down en masse to pillage our crop before we even get a chance to pick a single berry for wine.
And that's where the bird netting comes in. Instead of bird-scaring propane cannons, which would make Happy Valley sound like Valley Forge circa 1777, or ringing the rows with squawk boxes that shriek out recorded bird distress calls, we drape the fruit zone in a fine mesh netting. Despite the daunting amount of extra time and expense, it's unquestionably the right way to treat our neighbors, including one of us whose house is in the middle of the vineyard.
Of course all this is to have the pleasure of picking the grapes in a couple weeks or so, depending on the weather. Would you like to join us out in the vineyard for the most glorious part of the vineyard year? Email us at rsvp@porttownsendvineyards.com and we'll tell you how you can be involved!
In the Winery...
We have been blending and bottling our little hearts out in advance of our upcoming club release and to make room to make more wines this harvest. The new Chardonnay, the new Cabernet Sauvignon, the new Gewurztraminer, a Reserve skin-fermented Pinot Gris, a bottled form of the Sedici blend and the Reserve Pinot Noir and Reserve Cabernet Sauvignons are done, as are more Pinot Noir, Riesling and Syrah. We've been busy.
Bottling, this last step of production at a winery, is bittersweet. Bitter in the sense of having to put on our mechanic's caps and problem-solve an Italian-built machine with 16 gajillion moving parts (according to my estimate). And also there's a lot of repetition involved. And also there's a lot of repetition involved.
But it is oh-so-very sweet to know that the wine is tucked safely in our bottles (made in Kalama, Washington, in case you were curious), stacked in cases of twelve and stored at 55-degrees. This lets us sleep soundly at night. ...Until the first grapes of harvest come in.
C.F. Clapp Building Update
If you've been downtown in the past few weeks, you've noticed that we've been busy working on our Water St. Wine Bar location in the renovated C.F. Clapp Building. Throughout October and November, we'll complete the outdoor paved courtyard, public waterfront walkway, and exterior doors and windows. Keep an eye out for new updates to the building and space! If all goes as planned, we'll open our doors to the public in Summer 2019.
From the Tasting Room...
Our 2016 'Sedici' is now on tap and available to the public in both tasting rooms! The first in our regional blend series, the 2016 'Sedici' Italian blend marries Barbera, Sangiovese, and Dolcetto. Stop in for a taste, a glass, or a growler full!

Did you know that our Taylor Street Tasting Room is open until 9pm? Our Downtown tasting room is a beautiful, intimate venue perfect for grabbing a glass after dinner or meeting a friend to catch up. Located on Taylor Street, near the Rose Theater, you could grab your tickets at the box office and enjoy a glass while you wait.

---
August Newsletter
Our wine family is embracing the heart of summer here at Port Townsend Vineyards. We've been hosting vineyard dinners and live musicians, pouring new wines (hey wine club members, have you tried our newly-released Sedici?), welcoming tourists and locals alike into our tasting rooms, and representing our wines at plenty of offsite events and festivals. And we're not slowing down anytime soon! Read on for updates on events, vineyard progress, and tasting room happenings.
Upcoming Events
Live Music at the Winery
August is all about music here at the winery, check out our line-up for Wine Down Fridays, and our special Saturday performers:
Friday, August 10th, 5p-8p: Forest Beutel, food from Hama Hama Oysters
Friday, August 17th, 5p-8p: Speak Easy Jazz Cats, food from Barbarian Fine Cuisine
Saturday, August 18th, 5:30p-7:30p: Blue Skyz Jazz, food from Banana Leaf Thai Cuisine
Friday, August 24th, 5p-8p: Kristin Myers, food from Banana Leaf Thai Cuisine
Saturday, August 25th, 5p-7:30p: Trevor Hanson
Friday, August 31st, 5p-8p: Micaela Kingslight, food from Barbarian Fine Cuisine
Wine Tastng 101:
After two sold out months of our Wine 101 class, it's back by popular demand! Join us at the Taylor St Tasting Room on Wednesday, August 29th from 6-7:30p.
Grape Stomp Competition and Harvest Celebration at the Winery
Saturday, September 15th, 5p-9p
It's our Second Annual Grape Stomp Competition! Sign up to participate, or come watch as groups of two stomp their hearts out! Live music and fiddling by the Buck Ellard Band, food by Barbarian Burgers.
Jefferson County Farm Tour
We're on the Jefferson County Fam Tour, Saturday and Sunday, September 15th and 16th. Join us in the Vineyard on Portuguese Hill for tours, a 'petting zoo' with our farm animals, and more.
Wine Club Fall Release
We're excited to announce our Fall Wine Club Release on Saturday, September 22nd!
Members, keep an eye out for important emails and announcements regarding your allocatoin. It's not too late to become a member, learn more about our wine club membership and tiers on our website, or stop into the tasting room to sign up.
Harvest Volunteers
If you're interested in volunteering in the vineyard for harvest, please email us to sign up to be on the contact list! Harvest will occur for about three days in late September and early October (exact dates depend on the plants), and we're excited to bring in the community as we all work together for this once-a-year opportunity!
From the tasting room...
We have been cruising through the Summer with many of you bringing your own games and blanket to our lawn. Why not make it a picnic? Food is welcome at the Winery, so grab a basket, your favorite nibbles, and our fantastic Tasting Room staff will offer suggestions on which of our wines would be the perfect fit. Our growlers hold 750ml of wine and seal, so you don't need to worry about losing even a drop.
From the Vineyard...
In conversations with our guests at the winery tasting room, it's become evident that many people don't realize we have a vineyard here in town. That's understandable because we haven't produced anything for folks to try quite yet. But I want you all to know what's to come with what is, believe it or not, the largest vineyard in the Puget Sound.
The Vineyard on Portuguese Hill, which we started planting here in Port Townsend in 2015, is divided into three separate vineyard blocks. Rather than looking at it as one 11-acre vineyard, I prefer to think of it as three adjoining vineyards with three different personalities. Read more about each block here.
From the Winery...
We've been blending up all our reserve wines this summer and are getting them ready for the bottle. Our skin-contact 2017 Reserve Pinot Gris, our 2016 Reserve Pinot Noir and our 2016 Cabernet Sauvignon are nearly ready to join our 2016 Reserve Chardonnay on our upper tier of high-quality wines.
Many folks ask what does it mean when we call a wine "reserve"? Well, it's the culmination of a series of small decisions. First, we highlight the best grapes that come through the winery door from the best vineyards in the best vintages. After that, we make choices based on quality in the tank and barrel. We search for barrels of wine that highlight complexity, depth and nuance of flavor. With blending trials and multiple tastings guiding us to a final selection, we find the barrels that go best together to make the most intriguing wine that will last a long time in our customers' cellars.
---
July 8, 2018
This past week's sunshine and high temperatures has us revelling in the best of summer in Port Townsend. Our staff has been sipping on plenty of Pinot Gris and Rosé, but we've got all our wines pouring at both tasting rooms, seven days a week. Stop by and say hi, and read on for news from our Tasting Room, Vineyard, Winery, and a bit about upcoming events.
Best,
KC Vessey, Operations Manager
News from the Tasting Room
Kristin Myers is our new Tasting Room and Wine Club Coordinator. She comes to us from Colorado, after selling all of her belongings and traveling the world for two years. During that amazing journey of seeing sights, playing music, and eating everything she could get her hands on, she and her husband came to Port Townsend to set down some roots. Kristin will tell you how much she loves listening to the stories of the people and places in Port Townsend, as well as the craftsmanship involved in making wonderful wine. When she is not here discussing what recent, spicy clam dish she created and served with our Pinot Noir, she is walking her two dogs around the North Beach area or busking downtown on a sunny day.

What's New at the Winery Tasting Room
As you may have noticed, our lawn is now open! On any given day, you can come out to soak up the sun or play a game or two on the lawn. Tables, chairs, and umbrellas line the paved area for your comfort and enjoyment. The tasting room offers blankets and wine tables for those who would like to enjoy the picnic atmosphere. Our growlers are a perfect way to make sure that your wine is safe while you play our new games. These include corn hole, ladder toss, hula hoop, checkers or playing cards.
Children are more than welcome to play with parental supervision and dogs are welcome too, while on leash. Don't forget, you can ask any staff member to turn the fireplace and heaters on or off as is needed. Come spend your summer with us!
- Kristin Myers, Tasting Room Coordinator
From the Vineyard
The recent change in the weather has the vines leaping to the sky. We're just trying to keep up with the growth and maintain a well-trimmed canopy. The effort is worthwhile because the more evenly the vines are trimmed, the more likely it is that each leaf spends most of the day in the sun, which give us the best chance to ripen grapes before the rains of autumn end our growing season.
On June 29th we had 50% bloom, which is to say that about 50% of the vineyard blossoms were in bloom. A grapevine bloom is far from a showy display. Each little blossom pokes out a small white pistil for a few days. Heavy rains and hail can be enough to disturb fertility, but it looks like our timing was fortunate this year. As everyone knows, summer doesn't begin until July 5 around here – if we're lucky. As a result, the timing of bloom can be a challenge in the northwest. But 2018 has been good to us thus far.
We're thinking ahead to harvest, too! If you're interested in volunteering in the vineyard for harvest, please email us to sign up for the contact list. Harvest will occur for about three days in September (exact dates depend on the plants), and we're excited to bring in the community as we all work together for this once-a-year opportunity!
In the Winery
In the winery, almost all of the barrels have finished their secondary fermentation, which we call "malolactic" since it's a conversion of malic acid to lactic acid. Malic acid is the acid most commonly found in apples, and which gives apples their distinctive twang of flavor that makes them so refreshing. Lactic acid is typically a result of fermentation, as it is here, and is noted for its role in cheese making, among many other things.
For you Latin fans out there, malum means apple and lac means milk. Throw an -ic suffix on there (plus a bonus t to make the hard c in lac) and you have yourself an adjective. As you have probably already gleaned from the etymological source words, malic acid is sharper than lactic acid, and that's one of the main differences between wines that don't go through that secondary fermentation (most whites) and those that do (most reds).
Okay, your combined botany, chemistry and Latin lesson is over! Go celebrate with a glass of wine!
- Ben Thomas, Winemaker
Are you a wine club member? If so, don't forget to sign up for our All-Level Wine Club Appreciation event in the vineyard on Friday, July 20th from 4:30p-6:30p. Strap on your sun hat and we will guide you through our Vineyard on Portuguese Hill as we walk through the grapes and discuss our organic farming practices and varietals grown, all while sipping on our wines and snacking on local cheeses and snacks. Tickets available online.
Interested in becoming a wine club member? Stop by either tasting room, or learn more here.
Winery Tasting Room
12p-7pm Sunday-Thursday
12p-8p Friday and Saturday
Taylor St Tasting Room
3p-9p daily
---
June 9, 2018
One Year Anniversary Party at the Winery
The games have been ordered, the musician booked, and the wine has been kegged! We're all excitedly preparing for our One Year Anniversary Party next Friday, June 15th from 5p-8p.
This is our opportunity to thank you and the entire Port Townsend community for welcoming us and making our first year a successful one!
Our Discovery Rosé is brand new to the public this month, and will pair perfectly with a sunny celebration. There will be plenty of reds and whites to choose from by the glass, carafe, and bottle, too!
Enjoy the sounds of Micaela Knight from 6p-8p, and Hama Hama will have raw oysters, crab cakes, steamed clams, and grilled oysters. We'll have expanded food selections in the tasting room, too!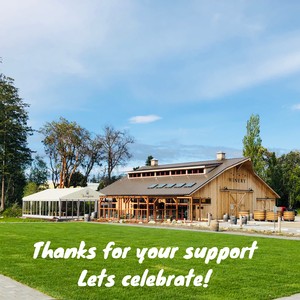 From the Vineyard
Earlier this week, our team put on our sun hats and headed into the vineyard for shoot-thinning and pruning. We spent the morning caring for each plant in one of our five 'blocks', making sure they were properly pruned for maximum sun exposure and grape output. And after all that hard work...it was time to feast! Good work deserves good wine, food, and conversation! Interested in joining us in the vineyard to volunteer at our next work party? Let us know at contact@porttownsendvineyards.com.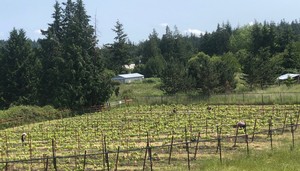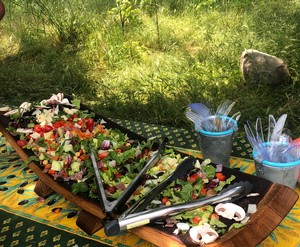 'Wine' Down Fridays
each Friday at the Winery, 5p-8p
Check out our line up!
Friday, June 15th: Hama Hama Oysters, music with Micaela Knight
Friday, June 22nd: TBA, music with Jim Capik
Friday, June 29th: TBA, music with Jim Capik
Friday, July 6th: Mo Chili BBQ, music with Lost in the Shuffle
Friday, July 13th: Hama Hama Oysters, music with Kristin Myers
Friday, July 20th: Revolution Tacos, music with Jim Capik
July 27th: TBA, music with Jim Capik
August 3rd: Mo Chilli BBQ, music with Douglas Francisco
August 10th: Hama Hama Oysters, music with Forest Beutel
August 17th: TBA, music with Jim Capik
August 24th: Banana Leaf, music with Kristin Myers
August 31st, Banana Leaf, music with Micaela Kingslight
Concerts on the Lawn
Cold Comfort
Saturday, June 30th, 5p-8p at the Winery
We're kicking off our Saturday Summer Concerts with hometown boys, Cold Comfort!
Cold Comfort created their energetic, upbeat rock and roll playing together around the bonfires and beach parties of their youth. Growing up together in Port Townsend, Washington, Cold Comfort's music evolved and matured to reflect the enduring bonds of its bandmates. Their songs crackle with life, possessing a depth of emotion uncommon to the work of songwriters so young. Ringing guitars, steely percussion, and infectious rhythms are crafted into a refined sound, yet the feeling is still raw.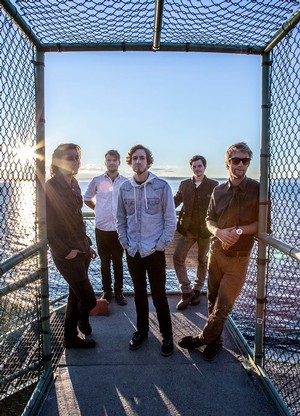 2017 Pinot Gris released for Wine Club members
Grown with care at the biodynamically farmed Keeler Estate Vineyards, our 2017 Pinot Gris had three days of skin contact adding interesting aromas and a delicate copper hue. This wine was fermented cool and slow to preserve bright floral and fruit aromas and flavors. The scent of Asian Pear and meadow flowers deepens into flavors of squash blossom and peach slices drizzled with honey. Take a bottle home to enjoy alongside Dungeness crab, scallop crudo with citrus, or Caprese salad.
Our Pinot Gris is available by the glass and bottle to all wine club members for the month of June, and will be available to the public July 1st!
Keep an eye on your inbox for more upcoming events, wine club specials, and more. Thanks for supporting us, we look forward to seeing you at the Winery or downtown Taylor St. Tasting Room.
Cheers,
KC Vessey, Events Manager
---
May 25, 2018
Can you believe it's almost Memorial Day weekend? We're all excited for these longer days, higher temperatures, and 3-day weekends. As we look towards June, Port Townsend Vineyards is ready to jump into summer--starting with our One Year Anniversary Party!
One Year Anniversary Party
Friday, June 15th, 5p-8p at the Winery
Join us as we celebrate a successful year and cheers to many more! We're opening our brand new lawn to you, complete with lawn games, barrel races, live music from Micaela Knight, food specials, and a raffle for all who attend and enjoy a glass of wine! The celebration is free and all-ages, and will be the kick off for our summer of "Wine Down Fridays". Each Friday from June 15th-August, we'll have live music, food specials, and plenty of wine to reward you at the end of the work week. Cheers!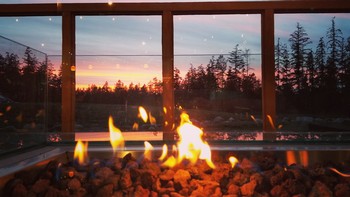 More upcoming events:
This weekend is the Port Townsend Artisan Food Festival at the Uptown Farmers Market! Saturday, May 26th from 9a-3p. We're partnering with Mt Townsend Creamery and Sweet Lamb Baking Co. as we create a special wine-paired bite! Stop by to try our samples and so many others from our local food producers and artisans.

Taste of Port Townsend:
Have you bought your tickets for Taste of Port Townsend? You don't want to miss this event full of local Port Townsend food, wine, cider, and beer! We'll be pouring our wines, stop by and say hello. Tickets are on sale now at Safeway and online.
A few words from Ben Thomas, Winemaker
What's growing?
The vineyard is absolutely stunning this time of year. The vines are popping with enthusiastic shoots already climbing the trellis and the between rows are blooming with the cover crop of crimson clover and yellow mustard. It's quite the sight, especially on a sunny day.
The whole crew has taken a role in the vineyard this year, which has been giving the folks in the tasting room a great perspective on what lies at the soul of wine. Without the story of the vineyard – along with the magic of the yeast and oak inside the winery – wine would just be a yummy solution we consume. But it isn't like that. We taste the journey from soil to plant to fruit to press to barrel to bottle (or keg, as it were) to glass. It's a very special thing to be part of and I'm glad you appreciate it, too.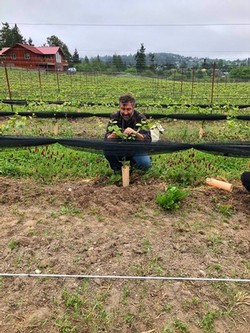 And in the tank hall...
I've been training cellar hands Dustin and Cassidy to mind the shop while I'm away on my honeymoon in Europe for the next month. They've been learning so much and can ably hold it together in my absence while I traipse through the vineyards of France and Italy. I promise to update you all on my travels as I plan to visit some producers that will have some insight into our growing region and winemaking style here on the edge of a whole other continent. In my experience, wine growers and makers of the old world are fascinated to hear of our work out here beyond where they imagined it possible.
We have blended and bottled some fun new wines that I can't wait to share:
Our 2017 Pinot Gris is a slightly copper-colored wine with all sorts of secondary and tertiary flavors: hazelnut and amaretto to pear and spiced apple. It's a style of wine that many have not tried. Three days on soak on the grape skins gave it the copper tint and nutty aroma. We're releasing this wine to the wine club in June and to the public in July. Keep an eye out for it. You can't miss its tanned hue.
We're excited about our new Cabernet Sauvignon, as well. It's a blend of grapes from Ancient Lakes of Columbia Valley and Walla Walla. It has some tannins and strong fruit. We used all French oak on this wine to enhance its food pairing powers. There's something about the French oak barrels that brings out the layers and nuance in a wine. We'll be releasing this wine when we feel it's tasting well. We don't want to rush it, and yet we also want to bring it out in the open to share. Don't expect to see it before December, but don't be afraid to prod us to test to see how it's doing.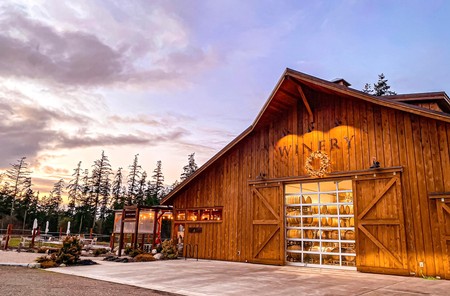 From the Tasting Room
Our tasting room staff has been raving about the release of our rosé! If you haven't had a chance to taste, it will be available to the public June 1st, and has been a hit with the wine club this month on pre-release. Stop by and have a taste, grab a growler, have a picnic... just be sure you get some before it runs out this season.
Winery Tasting Room:
Sunday-Thursday 12p-7p
Friday-Saturday 12p-8p
Taylor St. Tasting Room:
7 days a week, 3p-9p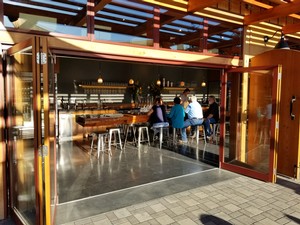 Thanks for reading, and enjoy all this sunshine!
Best,
KC Vessey, Events Manager
---
November 2017
A New Downtown Tasting Room
215 Taylor St
Our downtown tasting room on 215 Taylor is now open! Pictured here is our crew celebrating with a glass of wine and a toast.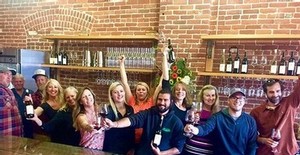 ---
October 2017
A Work in Progress
Water Street Wine Bar
Casual and connected, this completely restored 1885 building will be a wine immersion experience for locals and visitors. Likely the most widely anticipated opening in the Port Townsend Vineyards collection, Water Street Wine Bar will delight guests with on-the-water views and a commercial kitchen for guest chef events. The two-story brick building will bring with it a regional food pairing experience, tasting counter, and a variety of seating configurations to support large and small group activities and events. The wine bar will be the primary retailer of Port Townsend Vineyards products.
Did You Know
For a time, the C.F. Clapp Building was a pre-Prohibition saloon in the late 1800s and early 1900s. It then transformed into an athletic club in the 1930s and hosted many wrestling and boxing matches.