News
July 8, 2018
This past week's sunshine and high temperatures has us revelling in the best of summer in Port Townsend. Our staff has been sipping on plenty of Pinot Gris and Rosé, but we've got all our wines pouring at both tasting rooms, seven days a week. Stop by and say hi, and read on for news from our Tasting Room, Vineyard, Winery, and a bit about upcoming events.
Best,
KC Vessey, Operations Manager
News from the Tasting Room
Kristin Myers is our new Tasting Room and Wine Club Coordinator. She comes to us from Colorado, after selling all of her belongings and traveling the world for two years. During that amazing journey of seeing sights, playing music, and eating everything she could get her hands on, she and her husband came to Port Townsend to set down some roots. Kristin will tell you how much she loves listening to the stories of the people and places in Port Townsend, as well as the craftsmanship involved in making wonderful wine. When she is not here discussing what recent, spicy clam dish she created and served with our Pinot Noir, she is walking her two dogs around the North Beach area or busking downtown on a sunny day.

What's New at the Winery Tasting Room
As you may have noticed, our lawn is now open! On any given day, you can come out to soak up the sun or play a game or two on the lawn. Tables, chairs, and umbrellas line the paved area for your comfort and enjoyment. The tasting room offers blankets and wine tables for those who would like to enjoy the picnic atmosphere. Our growlers are a perfect way to make sure that your wine is safe while you play our new games. These include corn hole, ladder toss, hula hoop, checkers or playing cards.
Children are more than welcome to play with parental supervision and dogs are welcome too, while on leash. Don't forget, you can ask any staff member to turn the fireplace and heaters on or off as is needed. Come spend your summer with us!
- Kristin Myers, Tasting Room Coordinator
From the Vineyard
The recent change in the weather has the vines leaping to the sky. We're just trying to keep up with the growth and maintain a well-trimmed canopy. The effort is worthwhile because the more evenly the vines are trimmed, the more likely it is that each leaf spends most of the day in the sun, which give us the best chance to ripen grapes before the rains of autumn end our growing season.
On June 29th we had 50% bloom, which is to say that about 50% of the vineyard blossoms were in bloom. A grapevine bloom is far from a showy display. Each little blossom pokes out a small white pistil for a few days. Heavy rains and hail can be enough to disturb fertility, but it looks like our timing was fortunate this year. As everyone knows, summer doesn't begin until July 5 around here – if we're lucky. As a result, the timing of bloom can be a challenge in the northwest. But 2018 has been good to us thus far.
We're thinking ahead to harvest, too! If you're interested in volunteering in the vineyard for harvest, please email us to sign up for the contact list. Harvest will occur for about three days in September (exact dates depend on the plants), and we're excited to bring in the community as we all work together for this once-a-year opportunity!
In the Winery
In the winery, almost all of the barrels have finished their secondary fermentation, which we call "malolactic" since it's a conversion of malic acid to lactic acid. Malic acid is the acid most commonly found in apples, and which gives apples their distinctive twang of flavor that makes them so refreshing. Lactic acid is typically a result of fermentation, as it is here, and is noted for its role in cheese making, among many other things.
For you Latin fans out there, malum means apple and lac means milk. Throw an -ic suffix on there (plus a bonus t to make the hard c in lac) and you have yourself an adjective. As you have probably already gleaned from the etymological source words, malic acid is sharper than lactic acid, and that's one of the main differences between wines that don't go through that secondary fermentation (most whites) and those that do (most reds).
Okay, your combined botany, chemistry and Latin lesson is over! Go celebrate with a glass of wine!
- Ben Thomas, Winemaker
Are you a wine club member? If so, don't forget to sign up for our All-Level Wine Club Appreciation event in the vineyard on Friday, July 20th from 4:30p-6:30p. Strap on your sun hat and we will guide you through our Vineyard on Portuguese Hill as we walk through the grapes and discuss our organic farming practices and varietals grown, all while sipping on our wines and snacking on local cheeses and snacks. Tickets available online.
Interested in becoming a wine club member? Stop by either tasting room, or learn more here.
Winery Tasting Room
12p-7pm Sunday-Thursday
12p-8p Friday and Saturday
Taylor St Tasting Room
3p-9p daily
---
June 9, 2018
One Year Anniversary Party at the Winery
The games have been ordered, the musician booked, and the wine has been kegged! We're all excitedly preparing for our One Year Anniversary Party next Friday, June 15th from 5p-8p.
This is our opportunity to thank you and the entire Port Townsend community for welcoming us and making our first year a successful one!
Our Discovery Rosé is brand new to the public this month, and will pair perfectly with a sunny celebration. There will be plenty of reds and whites to choose from by the glass, carafe, and bottle, too!
Enjoy the sounds of Micaela Knight from 6p-8p, and Hama Hama will have raw oysters, crab cakes, steamed clams, and grilled oysters. We'll have expanded food selections in the tasting room, too!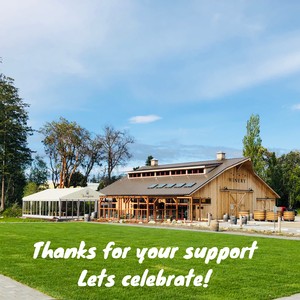 From the Vineyard
Earlier this week, our team put on our sun hats and headed into the vineyard for shoot-thinning and pruning. We spent the morning caring for each plant in one of our five 'blocks', making sure they were properly pruned for maximum sun exposure and grape output. And after all that hard work...it was time to feast! Good work deserves good wine, food, and conversation! Interested in joining us in the vineyard to volunteer at our next work party? Let us know at contact@porttownsendvineyards.com.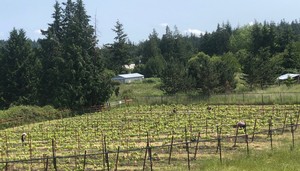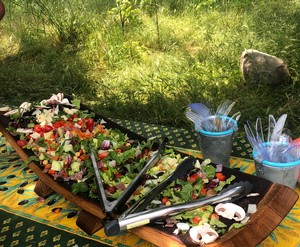 'Wine' Down Fridays
each Friday at the Winery, 5p-8p
Check out our line up!
Friday, June 15th: Hama Hama Oysters, music with Micaela Knight
Friday, June 22nd: TBA, music with Jim Capik
Friday, June 29th: TBA, music with Jim Capik
Friday, July 6th: Mo Chili BBQ, music with Lost in the Shuffle
Friday, July 13th: Hama Hama Oysters, music with Kristin Myers
Friday, July 20th: Revolution Tacos, music with Jim Capik
July 27th: TBA, music with Jim Capik
August 3rd: Mo Chilli BBQ, music with Douglas Francisco
August 10th: Hama Hama Oysters, music with Forest Beutel
August 17th: TBA, music with Jim Capik
August 24th: Banana Leaf, music with Kristin Myers
August 31st, Banana Leaf, music with Micaela Kingslight
Concerts on the Lawn
Cold Comfort
Saturday, June 30th, 5p-8p at the Winery
We're kicking off our Saturday Summer Concerts with hometown boys, Cold Comfort!
Cold Comfort created their energetic, upbeat rock and roll playing together around the bonfires and beach parties of their youth. Growing up together in Port Townsend, Washington, Cold Comfort's music evolved and matured to reflect the enduring bonds of its bandmates. Their songs crackle with life, possessing a depth of emotion uncommon to the work of songwriters so young. Ringing guitars, steely percussion, and infectious rhythms are crafted into a refined sound, yet the feeling is still raw.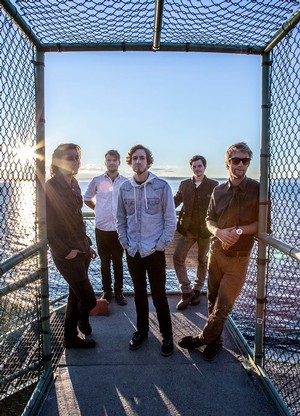 2017 Pinot Gris released for Wine Club members
Grown with care at the biodynamically farmed Keeler Estate Vineyards, our 2017 Pinot Gris had three days of skin contact adding interesting aromas and a delicate copper hue. This wine was fermented cool and slow to preserve bright floral and fruit aromas and flavors. The scent of Asian Pear and meadow flowers deepens into flavors of squash blossom and peach slices drizzled with honey. Take a bottle home to enjoy alongside Dungeness crab, scallop crudo with citrus, or Caprese salad.
Our Pinot Gris is available by the glass and bottle to all wine club members for the month of June, and will be available to the public July 1st!
Keep an eye on your inbox for more upcoming events, wine club specials, and more. Thanks for supporting us, we look forward to seeing you at the Winery or downtown Taylor St. Tasting Room.
Cheers,
KC Vessey, Events Manager
---
May 25, 2018
Can you believe it's almost Memorial Day weekend? We're all excited for these longer days, higher temperatures, and 3-day weekends. As we look towards June, Port Townsend Vineyards is ready to jump into summer--starting with our One Year Anniversary Party!
One Year Anniversary Party
Friday, June 15th, 5p-8p at the Winery
Join us as we celebrate a successful year and cheers to many more! We're opening our brand new lawn to you, complete with lawn games, barrel races, live music from Micaela Knight, food specials, and a raffle for all who attend and enjoy a glass of wine! The celebration is free and all-ages, and will be the kick off for our summer of "Wine Down Fridays". Each Friday from June 15th-August, we'll have live music, food specials, and plenty of wine to reward you at the end of the work week. Cheers!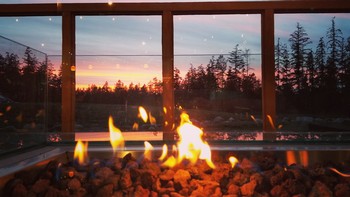 More upcoming events:
This weekend is the Port Townsend Artisan Food Festival at the Uptown Farmers Market! Saturday, May 26th from 9a-3p. We're partnering with Mt Townsend Creamery and Sweet Lamb Baking Co. as we create a special wine-paired bite! Stop by to try our samples and so many others from our local food producers and artisans.

Taste of Port Townsend:
Have you bought your tickets for Taste of Port Townsend? You don't want to miss this event full of local Port Townsend food, wine, cider, and beer! We'll be pouring our wines, stop by and say hello. Tickets are on sale now at Safeway and online.
A few words from Ben Thomas, Winemaker
What's growing?
The vineyard is absolutely stunning this time of year. The vines are popping with enthusiastic shoots already climbing the trellis and the between rows are blooming with the cover crop of crimson clover and yellow mustard. It's quite the sight, especially on a sunny day.
The whole crew has taken a role in the vineyard this year, which has been giving the folks in the tasting room a great perspective on what lies at the soul of wine. Without the story of the vineyard – along with the magic of the yeast and oak inside the winery – wine would just be a yummy solution we consume. But it isn't like that. We taste the journey from soil to plant to fruit to press to barrel to bottle (or keg, as it were) to glass. It's a very special thing to be part of and I'm glad you appreciate it, too.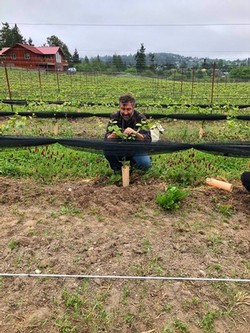 And in the tank hall...
I've been training cellar hands Dustin and Cassidy to mind the shop while I'm away on my honeymoon in Europe for the next month. They've been learning so much and can ably hold it together in my absence while I traipse through the vineyards of France and Italy. I promise to update you all on my travels as I plan to visit some producers that will have some insight into our growing region and winemaking style here on the edge of a whole other continent. In my experience, wine growers and makers of the old world are fascinated to hear of our work out here beyond where they imagined it possible.
We have blended and bottled some fun new wines that I can't wait to share:
Our 2017 Pinot Gris is a slightly copper-colored wine with all sorts of secondary and tertiary flavors: hazelnut and amaretto to pear and spiced apple. It's a style of wine that many have not tried. Three days on soak on the grape skins gave it the copper tint and nutty aroma. We're releasing this wine to the wine club in June and to the public in July. Keep an eye out for it. You can't miss its tanned hue.
We're excited about our new Cabernet Sauvignon, as well. It's a blend of grapes from Ancient Lakes of Columbia Valley and Walla Walla. It has some tannins and strong fruit. We used all French oak on this wine to enhance its food pairing powers. There's something about the French oak barrels that brings out the layers and nuance in a wine. We'll be releasing this wine when we feel it's tasting well. We don't want to rush it, and yet we also want to bring it out in the open to share. Don't expect to see it before December, but don't be afraid to prod us to test to see how it's doing.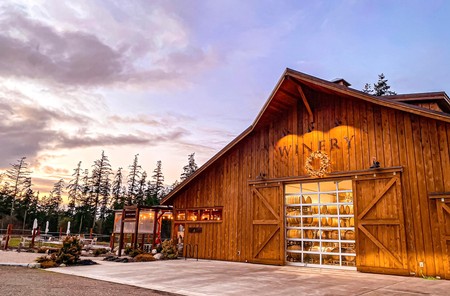 From the Tasting Room
Our tasting room staff has been raving about the release of our rosé! If you haven't had a chance to taste, it will be available to the public June 1st, and has been a hit with the wine club this month on pre-release. Stop by and have a taste, grab a growler, have a picnic... just be sure you get some before it runs out this season.
Winery Tasting Room:
Sunday-Thursday 12p-7p
Friday-Saturday 12p-8p
Taylor St. Tasting Room:
7 days a week, 3p-9p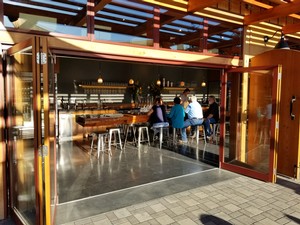 Thanks for reading, and enjoy all this sunshine!
Best,
KC Vessey, Events Manager
---
November 2017
A New Downtown Tasting Room
215 Taylor St
Our downtown tasting room on 215 Taylor is now open! Pictured here is our crew celebrating with a glass of wine and a toast.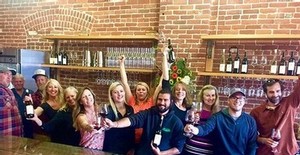 ---
October 2017
A Work in Progress
Water Street Wine Bar
Casual and connected, this completely restored 1885 building will be a wine immersion experience for locals and visitors. Likely the most widely anticipated opening in the Port Townsend Vineyards collection, Water Street Wine Bar will delight guests with on-the-water views and a commercial kitchen for guest chef events. The two-story brick building will bring with it a regional food pairing experience, tasting counter, and a variety of seating configurations to support large and small group activities and events. The wine bar will be the primary retailer of Port Townsend Vineyards products.
Did You Know
For a time, the C.F. Clapp Building was a pre-Prohibition saloon in the late 1800s and early 1900s. It then transformed into an athletic club in the 1930s and hosted many wrestling and boxing matches.