News
A New Downtown Tasting Room
215 Taylor St
Our downtown tasting room on 215 Taylor is now open! Pictured here is our crew celebrating with a glass of wine and a toast.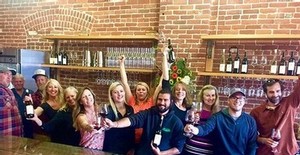 A Work in Progress
Water Street Wine Bar
Casual and connected, this completely restored 1885 building will be a wine immersion experience for locals and visitors. Likely the most widely anticipated opening in the Port Townsend Vineyards collection, Water Street Wine Bar will delight guests with on-the-water views and a commercial kitchen for guest chef events. The two-story brick building will bring with it a regional food pairing experience, tasting counter, and a variety of seating configurations to support large and small group activities and events. The wine bar will be the primary retailer of Port Townsend Vineyards products.
Did You Know
For a time, the C.F. Clapp Building was a pre-Prohibition saloon in the late 1800s and early 1900s. It then transformed into an athletic club in the 1930s and hosted many wrestling and boxing matches.