News
May Newsletter
While we can hardly believe it's already May, there's plenty to look forward to this month at the Winery and Taylor St. Tasting Room. From our long-awaited first estate release, to special treats for mom, to growing our PTV team of employees, it's not just the grape vine leaves that are in full bloom!
Mother's Day Celebration
Join us as we celebrate our wonderful mothers - stop into either tasting room on Sunday, May 12th; mothers receive a complimentary tasting of three wines. Sweet Seeds Floral Farm will host a floral pop-up shop at the winery with bouquets for purchase from 1p-4p.
Wine Club News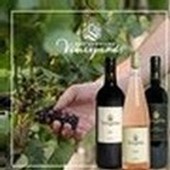 We so appreciate our Wine Club members, family, and friends that made both our 'Swing into Spring' pickup party at the winery and the Seattle pickup at Footprint Wine Tap such successes! Thanks to those of you took a moment to give us thoughtful feedback about our wines--including our award-winning 2016 Reserve Cabernet Sauvignon, 2017 Merlot, and 2019 Pinot Gris. We will continue to hold wine club allocations at the winery for those who have not had a chance to pick up their allocation until June 12th.

May Wine Club Wine Exclusive: 2018 Estate Siegerrebe

Our wine club exclusive for the month of May is the first release of our Port Townsend grown and produced estate wine, 2018 Estate Siegerrebe. Come in for a taste, glass, or bottle of our 2018 Siegerrebe, which offers aromas of honeycomb, mown grass, over-ripe white pear and nectarine, and a balance of flavors including tropical fruit, lemon custard and ginger root.
Upcoming Events at The Winery
2nd Anniversary Party on June 1st: Cheers to 2 years! Saturday, June 1st, 3p-8p at the winery. This is our opportunity to thank you and the entire Port Townsend community for welcoming us and helping make our business a success! There will be plenty of Port Townsend Vineyards wines, along with music by Micaela Kingslight, food by Mo Chili BBQ and Fiddlehead Creamery, and fun activities for the whole family to enjoy: lawn games, barrel races, wine raffles, and more. All ages welcome! Visit www.porttownsendvineyards.com/events for more information.
'Wine' Down Fridays kick off June 7th: Our favorite part of summer is back again this year--each Friday from 4:30-7:30p, June 7-September 27th, we'll have live music, food trucks, lawn games, and wine aplenty. Head to our website for the full music and food lineup!
PTV at Port Townsend Artisan Food Festival: Join us at the PT Farmers Market in Uptown on Saturday, May 25th for their Artisan Food Festival. Local vendors of all sorts will be sampling tastes of their products--stop by and say 'hi'!
PTV at Brinnon Shrimpfest: Port Townsend Vineyards will be serving up seafood-friendly wines at Brinnon Shrimpfest Saturday and Sunday, May 25th and 26th. This community event is a celebration of the Hood Canal Spot Shrimp and other local seafood. Proceeds from ShrimpFest will be donated to community projects. For additional information, visit brinnonshrimpfest.org.
Live Music at the Taylor St. Tasting Room
Enjoy live music at the Taylor Street Tasting Room every Saturday evening! During the month of May, we're featuring bluesy-jazzy guitarist Tom Reinerth (5/4), flugelhorn performer, Phil Eherenman (5/11), guitarist Johnny Mac Bryan (5/18) and acoustic guitarist Gerald Braude (5/25). Grab a drink and settle in for some lovely tunes.

Future Port Townsend Vineyards Wine Plaza

A new tasting room that blends the best of all worlds is opening soon in the heart of downtown. Featuring a wine bar and waterfront patio designed for wine tasting and small bites, we're excited to bring you the next phase of Port Townsend Vineyards. Look forward to our summer-long "Party on the Patio!"
Join our Team

The Port Townsend Vineyards team is growing! We're looking for positive and energetic people to join our tasting room team and kitchen staff. Must have a passion for hospitality and customer service, and weekend and evening availability. Prior tasting room and/or cooking experience is a plus, but not required. Must love wine! Interested? Send a cover letter and resume to contact@porttownsendvineyards.com.

From the Winemaker...
In the Vineyard

Bud break is a key and glorious moment of the vineyard year--when the first leaves separate and start to unfurl from their cocoon-like bud, we get excited. When we see that 50% of the vineyard buds have broken, we mark that date on the calendar. The date of that 50% bud break is important to track year after year, as it gives us a sense of how early or late we are in the season. Being early, we might be able to ripen a larger crop and therefore leave more shoots on the vine. In a cool year, we'd likely dial back our expectations and thin the shoots a little more to limit the amount of clusters that the vine would need to ripen in a shorter amount of time.
This year we're about a week ahead of last year. It's such a beautiful time of the year in the vineyard with sun-bright constellations of yellow mustard blooming in the vinerows, the vineyard floor is a green carpet of soon-to bloom cover crop and all along the fruiting wires little green kernels are popping open on last year's canes.
In the Winery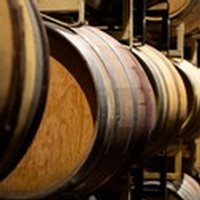 Our cellar is firing on all cylinders as we've been tending to more wine -- and more styles of wine -- than ever before. Our first estate wine has just been released to club members, our first sparkling wine is in the works and a few other first-time wines are rounding into shape, all while repeat our efforts on Chardonnay, Pinot Noir and the other new releases of current varietals.
Our barrel room is in full glory with 12' high stacks of French oak barrels that we frequently taste from and assess. I'm looking forward to reacquainting ourselves with the young rambunctious wines we put to barrel last harvest and getting to see how their personalities have developed of the last six months. There are some fun surprises in store for us. I'll keep you posted.