How It All Began: Port Townsend Vineyards' Journey to Crafting a Coastal Wine Experience
At Port Townsend Vineyards, our journey began with a deep-rooted commitment to hard work, innovation, and a long-term vision for future generations. We introduced a new line of locally produced wine to our beloved city, driven by a desire to highlight authentic, highly personal relationships with the land and its people. In the summer of 2017, we unveiled a collection of immersive experiences that celebrate the coastal character, persistent curiosity, and caring relationships that define the Port Townsend culture.
Founded by long-time residents of Port Townsend, in collaboration with nationally-respected local winemaker Ben Thomas, our venture has brought together numerous family members and friends who have contributed their talents to create a wine experience that embodies the honest hard work and the spirit of our community.
For us, Port Townsend Vineyards represents more than just the pursuit of making great wine. It is about nurturing a culture and cultivating lasting relationships. We approach winemaking with persistent curiosity, embracing the growth of uncommon wine grapes and exploring the possibilities they offer. And we recognize that without the support and collaboration of our community, none of this would be possible. We are deeply inspired by the place we call home, and it is the great people who surround us that bring our vision to life.
Our Goal
Our goal is to provide thought-provoking wines that can be enjoyed in a casual setting. We achieve this by welcoming you into our town and sharing our talents, always keeping our legacy in mind. That's why practicing sustainable production methods is of utmost importance to us. We believe that great wine should not only delight the palate but also reflect our commitment to the environment and the well-being of future generations. We hope you share this vision with us.
Our Mission
Port Townsend Vineyards integrates family heritage and innovation to provide a community wine experience of the highest quality. We are deeply invested in the local legacy of agriculture, sustainability, and craftsmanship. By nurturing our vineyards and practicing environmentally-friendly methods, we aim to create premier Puget Sound old-world style wines from local grapes. We also strive to enrich education and celebrate local craftsmanship, creating a vibrant community where relationships are fostered and cherished, whether around your table or ours.
Meet the Team
We take immense pride in our exceptional team of individuals who work together to create a truly unique and memorable wine experience. From the meticulous care of our barrels to the crafting of each bottle, our work is a reflection of true partnership and collaboration. We are grateful for the opportunity to share our passion with you and hope that you find joy in every sip.
Thank you for being a part of our journey.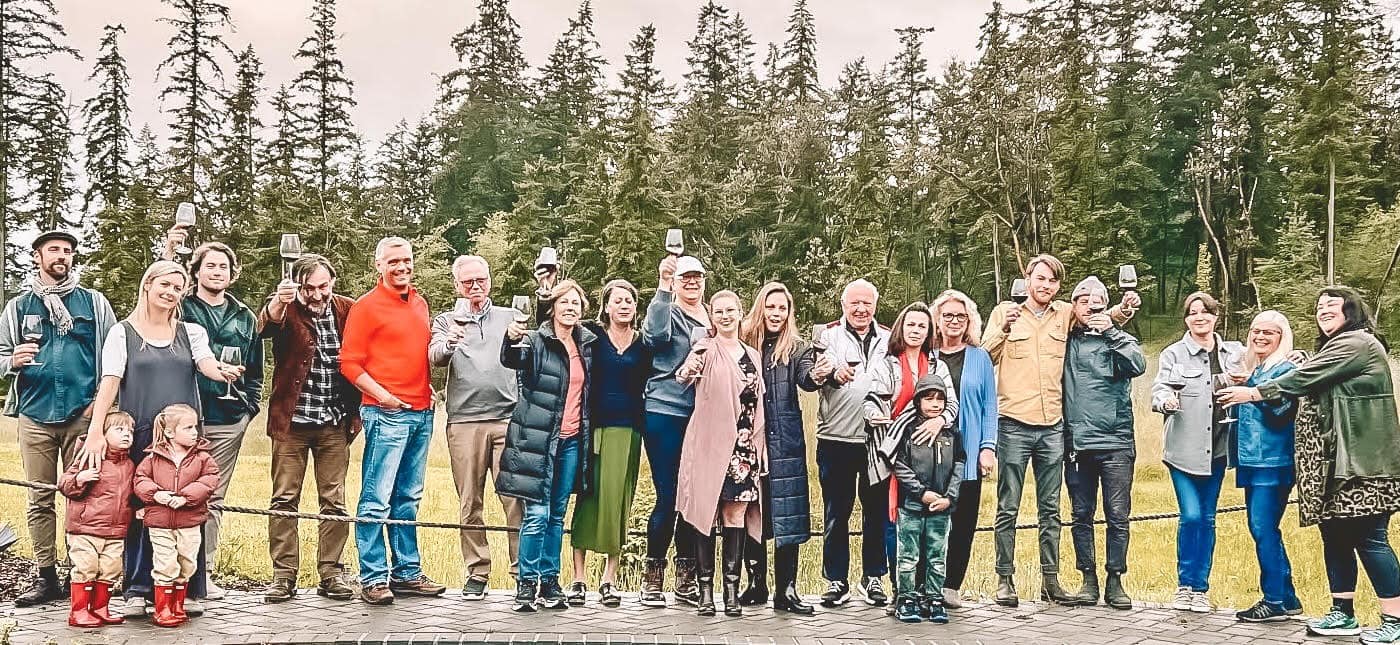 Annette Gardner: Tasting Room Attendant and Product Coordinator
Alexandra Padilla: Marketing
Ben Thomas: Winemaker
Brian Curry: Front of the House Coordinator and Wholesale Coordinator
Cindy Green: Wine Club Coordinator and Lead Tasting Room Attendant
Tasting Room Attendants:
Debra Darlington
Emily Henry
Heidi Haney (lead)
Holly Kramer
Jessica Weathersby
Robert Winstead
Shannon Kennedy
Tracy Paterson
Will Krause

Wine Production Crew:
Mick Trask
Dustin Ryerson