The Vineyard on Portuguese Hill
Port Townsend Vineyards was launched through the planting of vineyard using organic farming techniques in 2015. This vineyard was carefully planned to showcase the unique grape varieties that thrive in this geography and coastal climate. We use exclusively hand-harvesting techniques and care for the vines with no use of pesticides, fungicides, or herbicides.
The Vineyard on Portuguese Hill was cultivated to showcase unique grape varieties that thrive in this geography and coastal climate. This five-zone vineyard welcomes guests by appointment onto the land to immerse them into a world of winemaking that begins with lesser-known and beautiful varieties. Walk the vineyard rows and observe the subtleties between Iskorka and Garanoir, as well as Chardonnay and Pinot Noir and many more.
Brett Townsend is our vineyard manager and he has completed workshops and training courses in viticulture and integrated pest management with the Washington State University Extension Program and other organizations. He worked the 2015 harvest with our winemaker, Ben Thomas, in the Willamette Valley in Oregon and has gained experience at vineyards on Bainbridge Island. He has now trained our vineyard team in planting, pruning and harvesting, and he expects our first small local harvest this year.
In addition to managing our estate vineyard, Brett also functions as our liaison with partner vineyards throughout the northwest. This involves consulting with growers regarding decisions in the vineyards throughout the year, and especially at harvest time, as well as ensuring the grapes reach us in the best possible condition.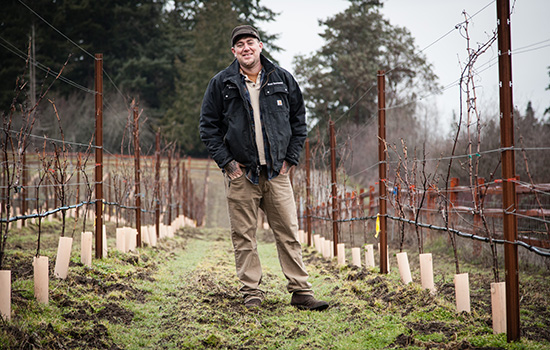 Brett lives in Port Townsend with his wife and two boys, and has made farming using organic principles a priority, despite all the extra manual labor that involves: "Our vineyards are ecosystems, and a key part of our vision is the creation of a legacy for the town, so there's no question that we want them to be the healthiest and most sustainable vineyards they can be."
If you're interested in arranging a tour of the vineyards, please contact Brett directly: brett@porttownsendvineyards.com.
Did You Know
The vineyard is located in a part of Port Townsend known historically as Portuguese Hill? Little is known on the reason for that name, but reference to it can be found
here
. It is more commonly referred to as Dundee Place.