3rd Annual Harvest Festival
and Grape Stomp
Saturday, September 14th, 12pm-7:30pm
at the Winery, 2640 W Sims Wy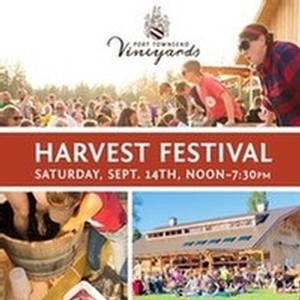 Join us for our 3rd Annual Harvest Festival!
This year we're headed to the lawn for a full day of family fun. They'll be grape stomping heats, food vendors, live music, line dancing lessons, kids games, wines by the glass and bottle, and more.
Admission is free.
Timeline of Events
12:00pm TASTING ROOM OPEN
lawn games, family fun,
wine & food
3:00pm BARREL RACES &
GUNNY SACK RACES
3:30pm LINE DANCING LESSON
with Vickie Townsend
4:00pm 3RD ANNUAL GRAPE
STOMP COMPETITION!
5–7:30pm LIVE MUSIC & DANCING
with the Buck Ellard Band
7:30pm BARREL BURN BONFIRE
out with the old, in with the new!
Food Vendors
Mo Chilli BBQ will be onsite selling famous Texas BBQ and we will have PNW cheese and salumi plates available for sale in the tasting room.
Activities and Live Music
This is a family friendly event and all are welcome! Come early to grab a spot on the lawn and enjoy food, wine, and games. Vickie Townsend will be teaching a free, community line dancing class, followed by the gramp stomp competition and music from the Buck Ellard Band. Buck himself will be fiddling during the stomp heats. We'll bring out the corn hole, lawn blankets, and hula hoops, too.
Grape Stomping Competition
Register your team of two for the grape stomping competition! Teams consist of two people, a stomper and a swabber. Get creative with your team name and costume. Registration is now open, and competition slots are first come, first served!
Wine
All your favorite Port Townsend Vineyards wines will be available for purchase by the glass and bottle. We'll have a special lawn bar highlighting our Discovery Wines.

Grape Stomp Rules and Information
Ever looked at your feet and decided they were a little too clean? Could maybe use a little color? Or perhaps you just miss the feeling of smooshing things with your toes?
Well, Port Townsend Vineyards has the cure for your toes' woes…the 3rd Annual Port Townsend Vineyards Grape Stomp is happening September 14th, 2019!
Stompers and Swabbies compete in teams of two in the fun-filled event. You and a friend decide which one of you likes to squish things with their feet more, and that person becomes the stomper--jumping, running, and pushing the grapes into juice. Your partner is the 'swabby' and is responsible for guiding the juice through the hole in the barrel and into the jug.
So grab a foot friend and get stomping ~ the winner gets the glory of a trophy and a tote bag filled with 4 Port Townsend Vineyards wines, and most importantly, has the right to call yourself Port Townsend's best grape stomper! Don't forget, costumes are encouraged!
Each team consists of two participants.
Each participant must be 18 years of age or older and in good health.
Each team member must sign the Grape Stomp Registration & Waiver.
To register or for more information, please email events@porttownsendvineyards.com