Olympic Peninsula Wineries Association
2018 Harvest Tour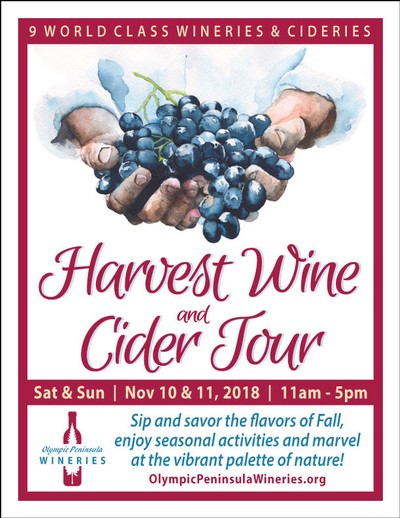 Date: November 10 & 11
Time: 11 a.m. – 5 p.m.
Location: Port Townsend Vineyards, 2640 W Sims Wy, and 9 other wineries on the Olympic Peninsula
Mark your calendar for this exciting wine tasting weekend where you can visit up to 10 different wineries and cideries. This event is sponsored by Olympic Peninsula Wineries and each location will offer food bites, wine tasting, tours and more. Tickets for the Harvest Wine Tour are $35 advance and include a special commemorative wine glass.
Stick around at the winery for live music from 5pm-7pm with 'Kirk & Kompany'! Elliot "Kirk " Kuykendall is a professional upright and electric bassist and Bandleader with over 30 years of experience performing his brand of live entertainment internationally and throughout the U.S. and Canada. Kirk has toured extensively with groups ranging from Cirque du Soleil to Ray Charles. Music is free and open to the public.
See the official OPWA event page here. Tickets available here.